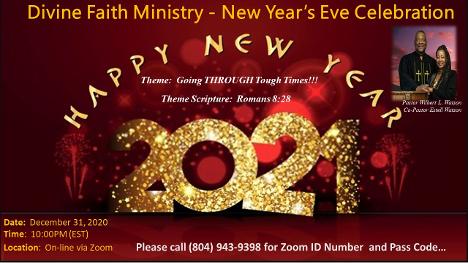 Glory to God! Praise and Worship the Lord, everybody!
Greetings Saints of God,
You are invited to join us at Divine Faith Ministry's Watch-night Service (New Year's Eve Celebration) on December 31, 2020, at 10:00pm to experience sincere "Going Through Tough Times!" Please come and witness for yourself via Zoom (on-line) a new joy of trusting the Lord even though times in 2020 were challenging and brough substantial sufferings.
I sincerely and wholeheartedly believe that we can praise and worship God on-line together in unity, and witness what happens when real faith is stirred-up or ignited in God's genuine believers. I consistently emphasize that you will not find playing church at Divine Faith Ministry, but find being church and winning lost souls for Jesus Christ to save. Please come with expectancy and an opportunity to continue "Rejoicing in the Lord, Always!" No matter what your present position, status, title, name, or condition is: we can in unity, rejoice, rejoice in the Lord!
Blessings and godly wisdom,
Rev. Wilbert L. Watson, Pastor